I know, I should probably break these down into three separate blog posts, but let's be real… I'm a brand new first time mom and the only time I have to work on this is while my husband is holding baby. Plus, if you're about to be a mom, this will save you the time of finding separate posts.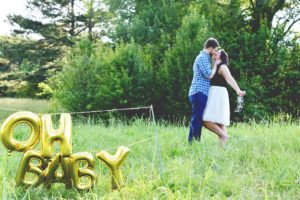 Let's start at the beginning.. PREGNANCY SURVIVAL.
Ginger Candy – I was skeptical, but these were cheap and really helped. During my first trimester I was constantly just a liiiittle nauseated, so having these handy was nice.
Flip Flop Slippers – I know. These sound ridiculous, but in my first trimester, I was overheating A LOT, and I felt like a lot of it was coming from my feet, so my husband bought these for me as a surprise. I thought they were silly, but ended up LOVING them and then loving them more when my feet started swelling at the end of my third trimester and none of my shoes fit. I even took them to the hospital.
Belly Support Band – In my second trimester when my belly started getting bigger and we decided to paint the whole house, this probably single-handedly saved my back. Also, round ligament pain is terrible. This helps.
Maternity Panties – (These should really be in the POSTPARTUM section too.) Ok, so I actually bought several brands of these and the ones I've linked by HOFISH were my favorite. They run a little big, so I was actually able to pull them up over part of my bump for a while, and postpartum they're still awesome because not only do you not go back to your regular size immediately, but you'll be using sanitary napkins for a while too.
Superfood Shake – I'm a huge advocate for this NOT pregnant, but PREGNANT I was really grateful to have it! My doctor approved it as my prenatal (I just supplemented iodine and folate, JUST in case.) While I was pregnant, I HATED vegetables, so some days this was the only thing I was able to eat that wasn't covered in cheese. Pregnancy is weird. Ask me if you want more info on this!
Plant Based "gatorade" – I'm not sure I could have totally survived my pregnancy without this. Like vegetables, I also hated water for a lot of my pregnancy, so having this helped me get more water in my day AND tremendously helped with swelling in my third trimester. Ask me if you want more info on this!
Maternity Clothes – EMBRACE it. You're pregnant. Be COMFORTABLE!
Maternity Robe – (This also goes in the POSTPARTUM section!) I LOVE this robe by Pinkblush. In fact, I'd get two. It's SO soft, and it honestly made me feel more comfortable about my new body as I was getting ready in front of the mirror. Postpartum, if you nurse or you're like me, you'll basically live in leggings, a nursing bra and a robe.
EXERCISE – Seriously. I really believe exercising my whole pregnancy helped me through labor (less than 12 hours and only 3 real pushes!) If you need help with prenatal workouts, I got you, babe! (Get your doctor's approval, but statistically, working out while pregnant is one of the best things you can do for you and baby!)
Ovia Pregnancy App (for iphone or andriod) – Of all the apps I found (and there are a LOT), this one was my favorite. It seemed to be the most accurate, easiest to navigate, and it had the best features.
POSTPARTUM SURVIVAL
You're going to find list after list of things you should get to make postpartum recovery easier. It will vary wildly for you, but these are some of the things I used MOST that have been super helpful. (I had a vaginal delivery with minimal tearing, so I can't help much with the c-section recovery for instance.) I am also breastfeeding.
BABY NECESSITIES
Again, SO many great lists out there, but these are the things we found helped with our sanity and just made things easier!
Infant Bed – I love having a place to put Jackson down and know he was safe. This bed by Mumbelli is QUALITY and less expensive than some of the others, but it comes with a wedge in case baby has reflux, and the whole thing is washable. I also LOVE this one.. it comes with a wedge as well, and it plays music, has a night light and is perfect if you travel.
Wipe Dispenser – omg.. get one of these! I love not having to open a pack of wipes for every diaper change!
Swaddle – a GOOD stretchy material we've found works best! I found one on Etsy that I love, but Cooper Pearl makes a great one too! I'd also highly suggest having a Halo Sleep Sack with the Swaddle flaps for when you can't swaddle anymore! Our hospital gave us a newborn size.
Caddy – Theoretically, you could move this to any room where you will be changing diapers, but we keep it on top of the dresser/changing table. I love that with this one you can adjust the compartments. We keep diapers, diaper cream, baby lotion, lanolin, hand sanitizer, and a bulb sucker in it. It's so much easier to have that stuff out than in a drawer, and this keeps it organized.
Sound Machine / Night Light – We LOVE this one! So many people suggested white noise would change our lives, and it really did! I love that this one has so many settings, colors and sounds and, it can be controlled from your phone.
Owlet – I sleep so much better knowing this little thing is watching baby all night.. I don't even care that one of my best friends called me a helicopter mom. It's one of the most expensive things we got, but we were able to cover it with our HSA/FSA!
Bottle Drying Rack – this is on pretty much every list, but it's a must!
"Baby Tracker" – this app is amazing! It's so hard to keep track of diapers, feedings and even sleep… especially if you have an awesome partner like I do that often takes care of some of these things. There are several apps that do this, but this one was designed to be used on multiple devices and is available on iOS and Android.
Burp Cloths – I'm pretty sure we have 25 of these, and I thought that was a lot, and then one day I realized they were all dirty. I kind of wish we had 50.
Pacifier – I wasn't sure I'd give baby a pacifier, and then one night right after we brought him home, all his other needs had been met but he was still fussy. Decided to try the pacifier (we literally only had one just in case), and it worked. So, here we are. I'd suggest having one on hand cause babies like to suck, and our pediatrician reminded us it was better they suck on the pacifier than their hands. Just do your research. We use these orthodontic ones by Smilo.
Moms on Call – If you ever want to sleep (for us more than 4 hours), get this book! There is so much good information about newborns, sleeping, eating, etc! I wish I'd read it BEFORE he was born.