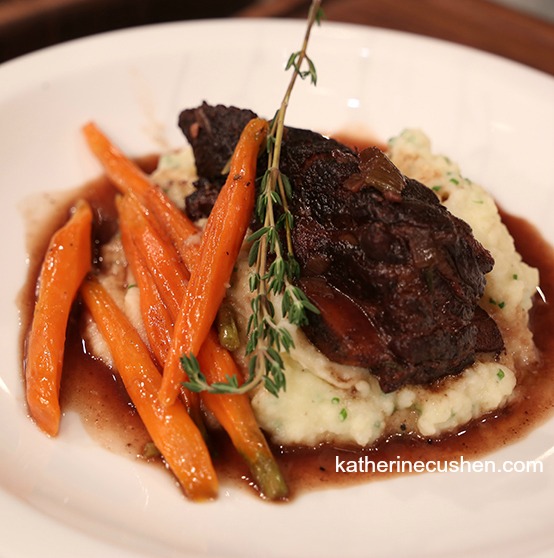 Beef Short Ribs
Ingredients
2 tablespoons canola oil
6 flanken-style short ribs with bones, cut 2 inches thick (about 4 pounds)
Kosher salt and freshly ground pepper
1 large onion, finely chopped
2 carrots, sliced
3 celery ribs, sliced
3 garlic cloves, thickly sliced
One 750-milliliter bottle dry red non-alcoholic wine
4 thyme sprigs
3 cups chicken stock
Method:
1. Season the ribs with salt and pepper. Heat Oil in a large dutch oven. Add them to the skillet and brown on all sides. Transfer to a bowl and set aside.
2. Add the onion, carrots, celery and garlic to the skillet and cook over low heat until softened. Add the wine and thyme sprigs and turn up the heat to high and boil for 1 minute. Pour over the ribs and let cool.
3. Preheat the oven to 350°F. place ribs back into dutch oven. Add the chicken stock and bring to a boil. Cover and cook for 1 1/2 hours, until the meat is tender but not falling apart. Uncover and braise for 30 minutes longer. Turn the ribs over half way through.
4. Remove ribs from dutch oven, cover and keep warm. Strain the sauce and place in a saucepan and keep warm over a low heat. Transfer the meat to plates, spoon the sauce on top and serve with Chef Stuarts perfect mash.
Creamy Mashed Potatoes with Creme Fraiche
Ingredients
4 quarts water
3 tablespoons kosher salt
3 lbs yukon gold potatoes, cubed (I choose yukon because they cook fast, and you can leave the skin on as it is so thin and also has the benefit of keeping in the vitamins since most of them are in the skin)
3/4 cup whole milk
1/2 cup creme fraiche
3 tablespoons unsalted butter
4 tablespoons chopped chives
Method:
1. Bring water to a boil with the potatoes already in the saucepan.
2. Cook potatoes for about 20 minutes.
3. Drain and place potatoes into a ricer and push them through.
4. In a saucepan, heat milk, creme fraiche and butter until bubbles start to form.
5. Mix the hot mixture with the potatoes and blend well by hand
until potatoes are super creamy, add in chives and mix for about 1 minute.
season with salt and pepper and of course TASTE!!!
6. Place in a heatproof dish and cover with foil until ready for use. Reheat in oven at 200oF if necessary for 10 minutes.
Brown Sugared Carrots
Ingredients
3 tablespoons Canola oil
1 pound of baby carrots, peeled and washed
Salt and pepper
3 tablespoons dark brown sugar
2 tablespoons honey
¾ cup water
3 tablespoons butter
Method:
1. In a large skillet, heat oil until it gets hot and place carrots in skillet and season with salt and pepper. Stir to cover with seasonings.
2. Cook carrots for 5 minutes and add the brown sugar and honey and cook for a further 5 – 7 minutes. Add water in needed.
3. Add the butter and stir for another minute or two.
4. Serve in a large bowl.
These recipes are from Stuart O'Keefe. 🙂