Y'all… this is one of my FAVORITE recipes, and it seems appropriate to share on Cinco de Mayo! Though, to be honest.. we have it at our house almost weekly! It makes enough for the husband to have lunch the next day too!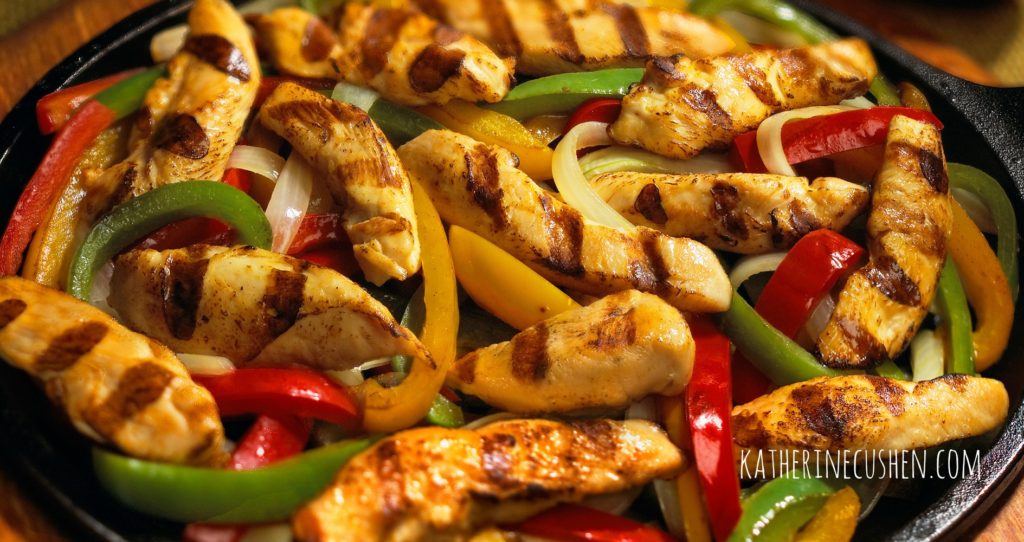 Ingredients:
1 tsp            chili powder
1/2 tsp        sea salt or Himalayan salt
1/2 tsp        ground cumin
1/2 tsp        garlic powder
2 tsp           olive oil, divided use
4 (5-6oz)   raw chicken breast, boneless, skinless, cut into 1/2-inch strips
1                  medium red (or green) bell pepper, cut into thin strips
1                  medium onion, thinly sliced
1 TBS         fresh lime juice (I don't like the lime juice, but my hubby does!)
8                 large romaine lettuce leaves
or               whole wheat tortillas (we use the tortillas!)
1/2             medium avocado, thinly sliced
or               (and sometimes and hehe) low moisture cheese
1 cup         fresh salsa
Directions:
Combine chili powder, salt, cumin, garlic powder, and 1 tsp oil in large resealable plastic bag.
Add chicken, bell pepper, and onion; mix gently to coat. Refrigerate for 15 minutes.
Heat remaining 1 tsp oil in large nonstick skillet over medium-high heat.
Empty contents of bag into skillet; cook, stirring frequently, for 5-6 minutes or until chicken is cooked through.
Remove from heat. Add lime juice (if desired).
Evenly top lettuce leaves with chicken mixture, avocado (or cheese) and salsa.
Garnish with lime wedges if desired.
Variations:
Substitute beef sirloin for chicken and cook to desired doneness. Shrimp is also a perfect substitution for chicken; simply use 1lb peeled and deveined shrimp and add a flavorful ground chipotle chili powder instead of regular chili powder.
— Recipe from 21 Day Fix Extreme