This is one of my FAVORITE spaghetti squash recipes! SO easy and yummy! Tip: focus on picking out a squash that has a rich yellow color to ensure ripeness.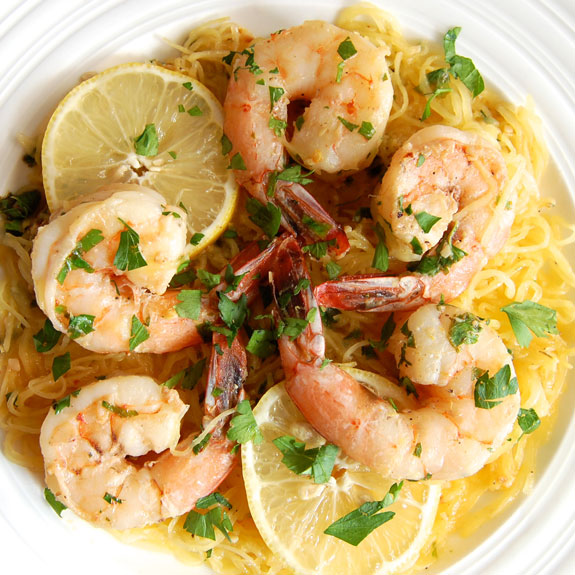 To prepare the spaghetti squash, place it in the microwave for 3-5 minutes to make it easier to cut. Some people just microwave the squash to cook it entirely, but I believe that roasting it in the oven is the best way to cook it. To open up the squash, carefully cut it in half lengthwise using a large, sharp knife.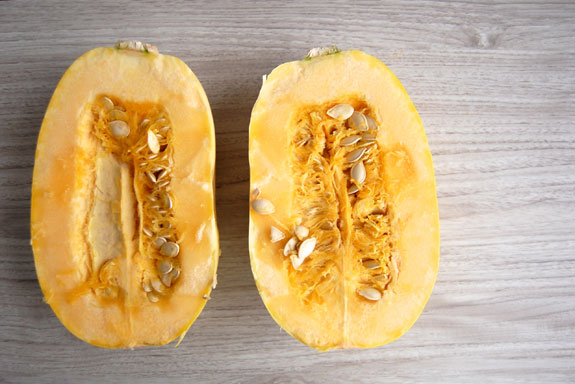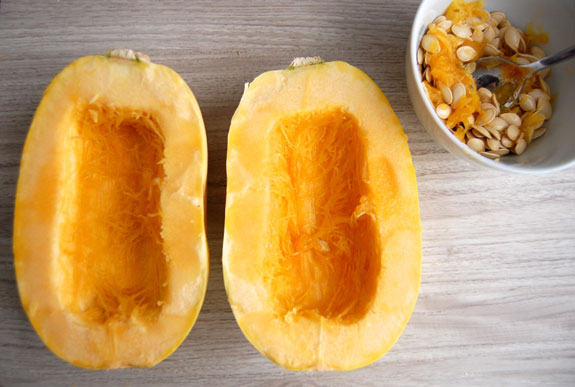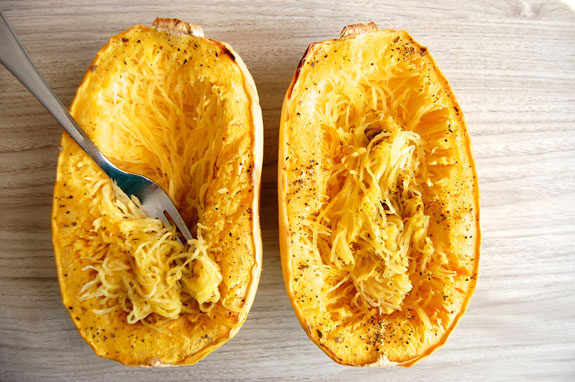 The seeds should be scooped out of the squash with a spoon, similar to a pumpkin. Also similar to a pumpkin, the seeds can be preserved and roasted if you like. After scooping out the seeds, you drizzle the squash halves with olive oil and any desired seasonings, place on a baking sheet, and roast for almost an hour.
Once the squash is soft and can be poked with a fork, you can shred the insides to get the spaghetti-like strands that the squash is named for. You might want to wait until the squash has cooled down enough to handle.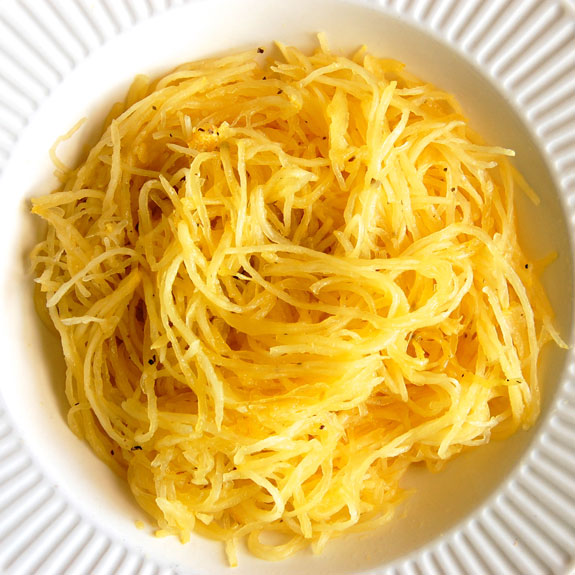 For the "pasta"
1 spaghetti squash
Extra virgin olive oil, for drizzling
Salt and pepper
1 tsp dried oregano
1 tsp dried basil
For the shrimp scampi
8 oz. shrimp, peeled and deveined
3 tbsp butter
1 tbsp extra virgin olive oil
2 cloves garlic, minced
Pinch of red pepper flakes
Salt and pepper, to taste
1 tbsp fresh parsley, chopped
Juice of 1 lemon
Zest of half a lemon
Directions
Preheat the oven to 400 degrees F. Place squash in the microwave for 3-4 minutes to soften. Using a sharp knife, cut the squash in half lengthwise. Scoop out the seeds and discard. Place the halves, with the cut side up, on a rimmed baking sheet. Drizzle with olive oil and sprinkle with seasonings. Roast in the oven for 45-50 minutes, until you can poke the squash easily with a fork. Let it cool until you can handle it safely. Then scrape the insides with a fork to shred the squash into strands.
After removing spaghetti squash from the oven, melt the butter and olive oil in a skillet over medium heat. Add in the garlic and sauté for 2-3 minutes. Then add in the shrimp, salt, pepper, and a pinch of red pepper flakes. Cook for 5 minutes, until the shrimp is cooked through. Remove from heat and add in desired amount of cooked spaghetti squash. Toss with lemon juice and zest. Top with parsley to serve.