BEEF AND BROCCOLI STIR-FRY
(Makes 4 servings, 1 cup each)
Total Time: 21 min.
Prep Time: 15 min.
Cooking Time: 6 min.
The fresh ginger gives this beef and broccoli stir-fry a distinct and delicious flavor.
1/4 cup low-sodium organic tamari soy sauce
6 tablespoons water, divided use
2 tablespoons tapioca starch, divided use
1 tablespoon raw honey
1 pound top sirloin beef, fat trimmed, sliced into 1/2-inch-thick pieces
1 teaspoon coconut oil (or safflower oil)
4 cups broccoli florets
2 cloves garlic, chopped
1 teaspoon grated fresh ginger root
1. Combine soy sauce, 4 tablespoons water, 1 tablespoon tapioca starch and honey in small bowl; mix well; set aside.
2. Combine remaining 1 tablespoon tapioca starch and 2 tablespoons water in large bowl; mix well. Add beef; toss to coat.
3. Heat oil in large skillet over medium-high heat. Add beef and cook, stirring frequently, for 2 minutes, or until cooked through and no longer pink; remove beef, place in clean bowl, and keep warm.
4. Add broccoli, garlic, and ginger to pan; cook for 2 to 3 minutes, stirring frequently. Transfer broccoli mixture to beef bowl.
5. Add soy sauce mixture to skillet and cook over medium-high heat, stirring constantly, for 30 seconds, or until thickened. Return beef and broccoli mixture to skillet and stir to coat.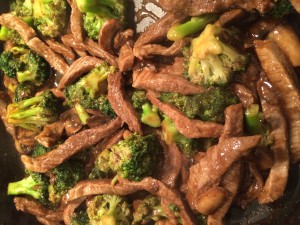 1/2 STARCH 1 VEGETABLE 5 PROTEIN
Nutrition Information (per serving):
Calories: 292 / Fat: 14 g / Saturated Fat: 6 g
Cholesterol: 82 mg / Sodium: 778 mg
Carbohydrate: 12 g / Fiber: 0 g / Sugar: 5 g
Protein: 27 g
((Stir-fry can also be made with chicken and using a variety of different vegetables, including snow peas, carrots, bell peppers, asparagus, water chestnuts, Chinese broccoli, zucchini, and mushrooms.))