Nothing makes me happier in the Fall than a good, warm vegetable stew. This recipe is a staple in our house… totally clean, yummy and easy! There are so many ways to change this up, but this is a great base! Vegan? Leave out the meat!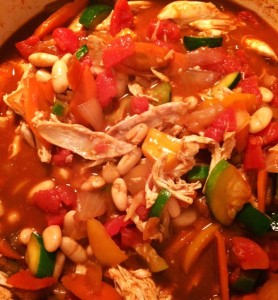 Ingredients:
1 tablespoon vegetable oil
1 onion, medium dice
1 organic carrot, medium dice (I often use 2)
2 garlic cloves, minced (I often use 4)
salt and pepper to taste
1 bell pepper, medium dice (I prefer red, yellow or orange!)
1 zucchini, medium dice
3 tsp ground cumin
2 TB and 2 tsp chili powder
2 15oz cans of black beans, drained and rinsed
1 1/2 cups water
1 28oz can chopped tomatoes
Lean meat of your choice. I use a whole rotisserie chicken, ground lean beef or ground turkey
How To:
Heat the oil in a dutch oven or heavy bottomed pot
Add the onions, carrot, garlic, salt, and pepper.
Cook until vegetables have softened (about 5min)
Add the bell pepper, zucchini, cumin, and chili powder.
Cook until carrots are tender (about 10 min)
Add the beans, water, and tomatoes in their juices.
Add cooked lean meat.
Bring to a boil, reduce to low and simmer for 15-20 minutes
Season with additional salt and pepper to taste.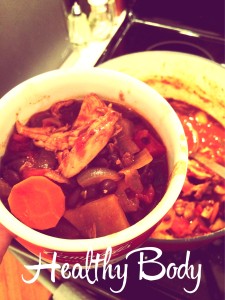 (The base of this recipe was created by my dear friend and chef Seth Buckles. The beauty of this recipe is it can be anything you want it to be.)